Weather Breaker Model 175 Commercial Insulated Garage Doors by General Doors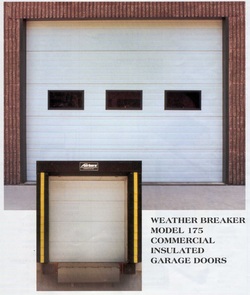 Using the Weather Breaker Model 175 means that overhead doors no longer need to be the weak link in an energy efficient building. Whether your facility is a cold storage warehouse or a heated manufacturing plant, maintaining a designated temperature is vital. The more airtight and insulated a door is, the better it will control temperatures; and that means a savings in energy and money. Additionally, the unique construction of the Weather Breaker Model 175 results in benefits beyond a high insulation factor. These doors offer a solid feel to every section, a quiet, smooth operation and a very high strength-to-weight ratio. All this adds up to a quick payback with the Weather Breaker; not only in energy savings and low maintenance, but in the daily operational benefits of using the best.


Optional Features include brown exterior skin, exterior operated cylinder lock, exhaust ports, white aluminum full-view sections, special track layout, reinforcing plate for draw bar operator, extra long life torsion springs, PVC recessed step plate/lift handle, and insulated windows.
---
Industrial and Commercial Steel Garage Doors by General Doors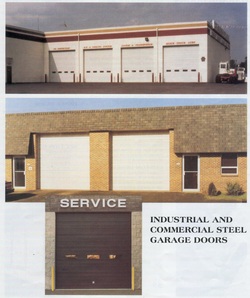 Backed by over 40 years experience, General Doors has designed and manufactures a steel door that is a pleasure to look at, and most important, to live with. The clean horizontal lines of the door blend effectively with any Commercial or industrial architectural style, and any building material: wood, steel, or masonry. The proven strength of deep ribbed, box girder construction eliminates sag, resists wind load, and reduces impact damage. The continuous exterior steel skin means optimum security, while the two coat, baked enamel finish over galvanized steel promises years of low maintenance service. Economy, security, durability, low maintenance costs and long life all add up to a door that can't be beat in the industry today. General Doors' Steel Doors are available in 24 or 20 gauge steel thickness. The 24 gauge door is available in white or bronze color, and is our standard weight door, sufficient for most installations. Its low cost makes this door an excellent buy when moderate use is projected. The 20 gauge door (available in white only) is made with 33% thicker steel skin and is therefore stronger and more impact resistant. 20 gauge is recommended for larger doors, or where heavy use is expected.
Fuel costs have made insulated doors a frequent consideration. General's Steel Doors can be supplied with 1-7/16" thick polystyrene foam insulation and covered with 26 gauge white painted steel or embossed aluminum panels. The edges of panels are recessed into the sections for a safe, clean appearance. The combination of these materials results in an R-value of 6.7 (U=15). Other types of insulation are available if the job requires a special material or insulating factor.
---
Commercial Doors with Residential Appeal by General Doors
Commercial Size & Strength...Attractive in any neighborhood.
The Hampshire 175 is 1 3/4" thick (measured through end caps and has a polyurethane insulating core with an R-value of 16. Both interior and exterior skins are hot-dipped galvanized steel (.016" thickness) pre-finished with an epoxy primer and a baked-on polyester top coat. Sections have a thermal break and dual weather seal between the sections for tight closure and energy efficiency. The Hampshire 175 features a finely detailed embossed wood grain surface and is available in a Colonial raised panel design as well as a Flush panel to compliment a variety of architectural styles.


The Advantage Series door is 1 3/8" thick and has a polystyrene insulating core with an R-value of 6.3. Both interior and exterior skins are 26 gauge G-60, hot-dipped, galvanized steel (.0165" thickness), then finished with a primer coat and baked-on polyester top coat. Thermal break between inside and outside skins. The Advantage Series door features a finely detailed wood-grain surface and is available with a well defined raised panel or a more contemporary flush design.
---